NPAW empowers employees to join a beach cleanup against marine litter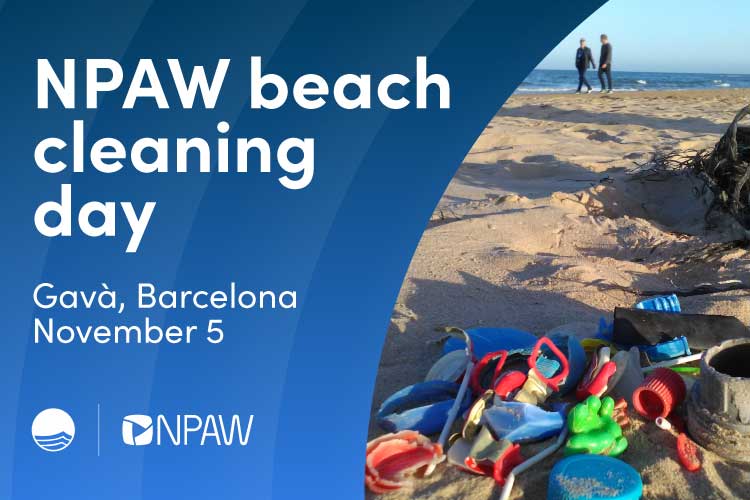 Last Friday, more than 20 employees from NPAW participated in a beach cleanup in Gavà, Barcelona. Two experts from the "Bandera Azul" program classified the waste collected and explained its origin, its impact on marine animals and human health and the possible solutions to the problem individually and collectively.
"Bandera Azul" is an environmental education program that promotes a sustainable use of the coast. More than 100 beaches and 20 marinas participate in the program in Catalonia region, developing awareness activities like the one celebrated in Gavà. It's becoming frequent that volunteers and companies participate in cleanups, as the issue of marine litter and microplastics is of general interest.
Spain is the second European country when it comes to waste dumping into the sea, because of fishing, aquaculture and other industries. The Mediterranean Sea contains 1.25 million fragments of waste per kilometres, that is four times the waste gathered in the so called plastic inland in the Pacific Ocean. 95% of the waste in the Mediterranean are plastics that slowly degrade, move with sea currents and are accumulating from the surface to the bottom of the sea. The fact that plastics become microplastics and its wide use make the problem of marine waste worse, and it is affecting marine ecosystems and our health.
Citizen collaboration is key to face the issue, reducing the amount of waste generated, and companies may search for alternatives to avoid marine litter.
Improve your Quality of Experience with NPAW
Contact us to receive a free product demo. Discover the impact Quality of Experience has on your product.