← NEWSROOM / NPAW Launches Product Analytics, SMB Solutions
NPAW Introduces New Product Analytics, SMB Solutions at NAB 2023
Barcelona, April 16, 2023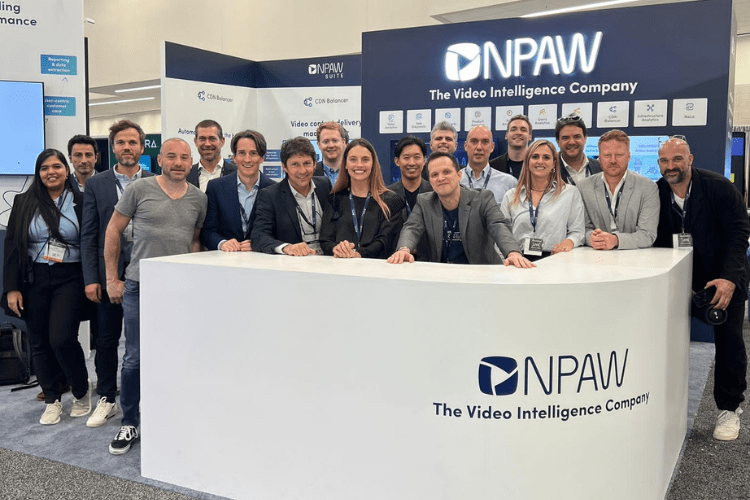 NPAW, the leading provider of analytics and business intelligence solutions for online video businesses, has introduced a series of new products and features at the NAB Show 2023 in Las Vegas. These new products broaden the scope of NPAW's analytics solutions to encompass the entire video business ecosystem, with holistic and customizable analytics solutions catering to everyone from small and medium-sized businesses (SMBs) to large enterprises.
The new analytics solutions presented at NAB 2023 include:
Product Analytics:

The NPAW Suite completes the video business circle by giving business and marketing professionals visibility of everything happening in their platform. Product Analytics combines NPAW's market-leading Video Analytics platform with new user journey and content analytics solutions to unlock all insights needed to boost business growth.

SMB Solutions:

A dedicated new product that democratizes advanced video analytics by making it accessible for everyone within the video industry, regardless of business size or data analytics skills. This new setup simplifies video analysis and adapts to the user's needs as they become a data analytics expert and their business grows.

Custom App:

The highest level of customization and flexibility for companies to achieve operational excellence on their own terms. The NPAW Suite's new custom app feature allows businesses to build their own video intelligence platform, customizing branding, roles, and permissions to secure data, anonymize data among teams and business units, and much more.
The next evolution of NPAW's continued efforts to connect all aspects of the video business, Product Analytics connects video analytics insights with user journey and content consumption information to provide marketers and business owners with a one-stop hub to track the performance of their video products. With this new solution, business departments can easily assess the impact of new releases and features on user activation and engagement, prevent churn, optimize the user experience, and much more.   
Meanwhile, NPAW's new SMB Solutions opens the company's deep analytics capabilities, until now reserved to large video businesses, to smaller video services. With a user-friendly interface, flexible setup, and a fast, seamless integration, SMB Solutions makes real-time video insights accessible to everyone regardless of their level of analytics expertise. It adapts to the user's needs, evolving in scope and complexity as they learn how to leverage video insights to boost their business.    
Finally, the new Custom App feature expands the NPAW Suite's customization capabilities to allow customers to build custom-made apps and add them to their value proposition. Apps can be created from the ground up, specifying features, filters, and tools as well as roles and permissions and data privacy and security. Customers can then customize the traditional NPAW Suite interface to match their branding, giving the end-user the feeling that they are not leaving the customer's ecosystem while accessing the application.
"With these new solutions, NPAW continues to demonstrate our commitment to providing the most innovative, flexible, and comprehensive analytics tools to the video industry as a whole," said Ferran G. Vilaró, CEO of NPAW. "We are excited to showcase these new products at the NAB Show 2023 and look forward to helping businesses of all sizes optimize their video operations and boost business growth."
In addition to its newest products and features, NPAW will be exhibiting the 360-degree capabilities of its NPAW Suite of analytics apps. As the only business intelligence platform integrating both application and video data, the NPAW Suite delivers a cohesive overview of platform performance, audience behavior, navigation, advertising, and content effectiveness in real time. 
Attendees will also be able to explore the possibilities offered by NPAW's CDN Balancer, a smart multi-CDN monitoring and switching tool that optimizes video content delivery based on Quality-of-Experience data. CDN Balancer allows streaming providers to avoid outages and always choose the CDN that best meets their audience's and business needs, improving their users' experience while reducing costs.
Visit NPAW at booth #W1327 in the West Hall of the Las Vegas Convention Center to learn more about its analytics and Multi-CDN solutions and how they can help video businesses around the world grow.
NPAW is an acknowledged global leader in technology innovations that track and analyze video consumption, user behavior, quality of experience, and quality of service, helping online streaming services grow. NPAW has over a decade of experience developing groundbreaking, scalable analytics solutions to optimize performance and user engagement, helping customers to build media experiences that maximize revenue. Its suite of analytics apps provides advanced visibility and actionable insights on platform performance, audience behavior, advertising and content efficiency, as well as app navigation in real-time to support data-driven decisions. NPAW serves more than 190 video services and processes over 100 billion plays per year worldwide. Established in 2008 by co-founders of the video streaming service Wuaki TV, which was later sold to Rakuten, NPAW has offices in Barcelona and New York with teams around the world.
Improve your Quality of Experience with NPAW
Contact us to receive a free product demo. Discover the impact Quality of Experience has on your product.