← NEWSROOM / 2022 Video Streaming Industry Report
NPAW Report: Daily
Per-Service User Engagement Continued to Drop in 2022 While World Cup Provided Big Boost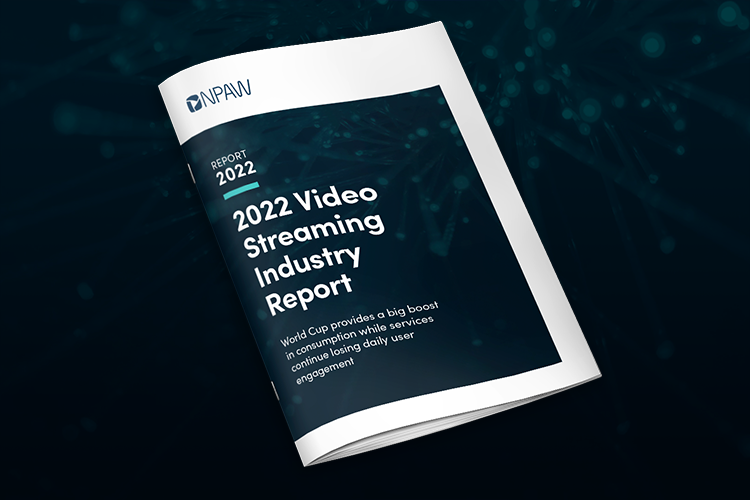 Highlights:
NPAW's 2022 Video Streaming Industry Report reveals daily user engagement per streaming service keeps declining as content options multiply
The 2022 World Cup confirmed the

high-engagement potential of sports content

Streaming consumers are increasingly turning to their big screens


NPAW, the global leader in video business intelligence and predictive analytics, today released the findings of its 2022 Video Streaming Industry Report. The fourth iteration of its annual study reveals that although global streaming adoption continued growing overall in 2022, the myriad content options launched in the past two years mean that individual services on average captured a smaller share of users' daily watching time.
NPAW's 2022 report examines the evolution of streaming consumption and quality of experience (QoE) trends on a global and regional scale.
The report concludes that in 2022, for the second year in a row, providers around the globe saw a year-on-year increase in the total number of video plays while daily consumption per user and service continued to drop for both VOD (-12%) and Linear TV (-23%).
In today's hypercompetitive media landscape, sports content emerges again as a major driver of viewer interest, with the Qatar FIFA World Cup showing what live sports can contribute in terms of engagement. Meanwhile, viewing on big screens keeps gaining traction, while streaming quality of experience stabilizes for VOD and continues improving for Linear TV.
Here are the main takeaways from NPAW's 2022 report:
The time each user spent watching VOD content on each service further decreased

compared with 2021 (-12%), demonstrating increased fragmentation and viewer choice, while viewers watched fewer titles (-7%),

Daily Linear TV playtime per user and service took a big hit

, declining by 23% year-on-year while users watched 11% fewer titles per day.

Global VOD quality stabilized, showing the fruits of significant cross-industry technology upgrades made in previous years

. The Avg. Bitrate for VOD marginally decreased (-1%), suggesting the beginning of a plateau in VoD video quality. Providers, keen to enable the best possible streaming experiences, focused on minimizing buffering by proactively increasing the Avg. Join Time (so that more of the program loads before the viewer can play). However, this resulted in higher Exit Before Video Start rates as users had more time, and greater opportunity, to disconnect before playback started.

Global Linear TV quality kept getting better,

demonstrating how highly broadcasters and operators continue to prioritize Linear TV QoE, and suggesting that this upward trend will continue. Here, Avg. Join Time also increased, which, as above, suggests providers are implementing longer time lags to allow for higher-quality video to load in order to avoid mid-stream buffering.

Big screens are where users spent the most time watching content, gaining a bigger share of the total number of plays while that of small-screen devices decreased.

The Qatar World Cup 2022 provided a big boost in consumption,

reaffirming the high engagement draw of sports content. Providers with streaming rights to the tournament enjoyed an increase of 80% in the total number of plays and 83% higher total playtime when compared with the previous six months.
"With competition growing fiercer by the minute, it's business-critical for streaming services to provide the right content and a superior streaming experience if they want to attract and retain users and maintain growth," said Ferran G. Vilaró, CEO and Co-Founder of NPAW. "To do so, they need to leverage their platforms' data to the fullest extent, implementing advanced analytics solutions that combine technical performance monitoring and user journey insights."
This annual NPAW report examines the state of the video streaming industry on a global and regional level, this year comparing 2022 data with findings from 2021 and 2020. All 2022 anonymized data insights featured in the analysis were extracted via the NPAW Suite of analytics from January 1, 2022, to December 31, 2022. These metrics include average bitrate, average daily playtime per user and service, buffer ratio, among others. As a result, they provide meaningful data-rich insights on real-time consumption and quality of experience provided to consumers by NPAW's more than 190 video service customers around the globe. These include top-tier OTT providers, major broadcasters, and telcos.
NPAW is an acknowledged global leader in technology innovations that track and analyze video consumption, user behavior, quality of experience, and quality of service, helping online streaming services grow. NPAW has over a decade of experience developing groundbreaking, scalable analytics solutions to optimize performance and user engagement, helping customers to build media experiences that maximize revenue. Its suite of analytics apps provides advanced visibility and actionable insights on platform performance, audience behavior, advertising and content efficiency, as well as app navigation in real-time to support data-driven decisions. NPAW serves more than 190 video services and processes over 100 billion plays per year worldwide. Established in 2008 by co-founders of the video streaming service Wuaki TV, which was later sold to Rakuten, NPAW has offices in Barcelona and New York with teams around the world.
Improve your Quality of Experience with NPAW
Contact us to receive a free product demo. Discover the impact Quality of Experience has on your product.