Global football and tennis fans turned en masse to streaming platforms this past weekend to follow two of the year's most anticipated events: the FIFA Champions League final and Roland Garros.
As it is becoming the norm with major sporting events, NPAW customer data reveals that both competitions broke records for streaming consumption when compared to previous years and regular seasonal patterns. This shows the high-engagement potential of sports content vs other types of content, as well as a change in consumer preferences. More and more people now opt for streaming platforms over traditional TV services when it comes to accessing live sports content, and this change can be clearly seen in the year-over-year comparison between editions of annual sports events.
In this blog, we dive into NPAW customer data to uncover what each of these two tournaments meant for streaming adoption and engagement.
UEFA Champions League Final 2023
As the climax of one of the most prestigious competitions in the world of football, the UEFA Champions League final attracts the attention of millions of football aficionados waiting to see Europe's best teams compete for the coveted title. This year was no exception, as two of the world's leading teams went head-to-head in an exhilarating battle that had a big impact on streaming adoption.
Manchester City won their first Champions League title, defeating Inter Milan 1-0 and completing a historic treble by winning the Premier League, FA Cup, and Champions League in the same season — the icing on the cake for manager Pep Guardiola's stellar career as one of the best strategists in the history of the sport. 
Data from a selection of NPAW customers that streamed the match shows significant spikes in streaming consumption compared to the previous 90 days and the 2022 final. In comparison to the average for the previous 3 months, last Saturday's game garnered 14% more plays and 18% more unique users, whereas playtime increased by 4%.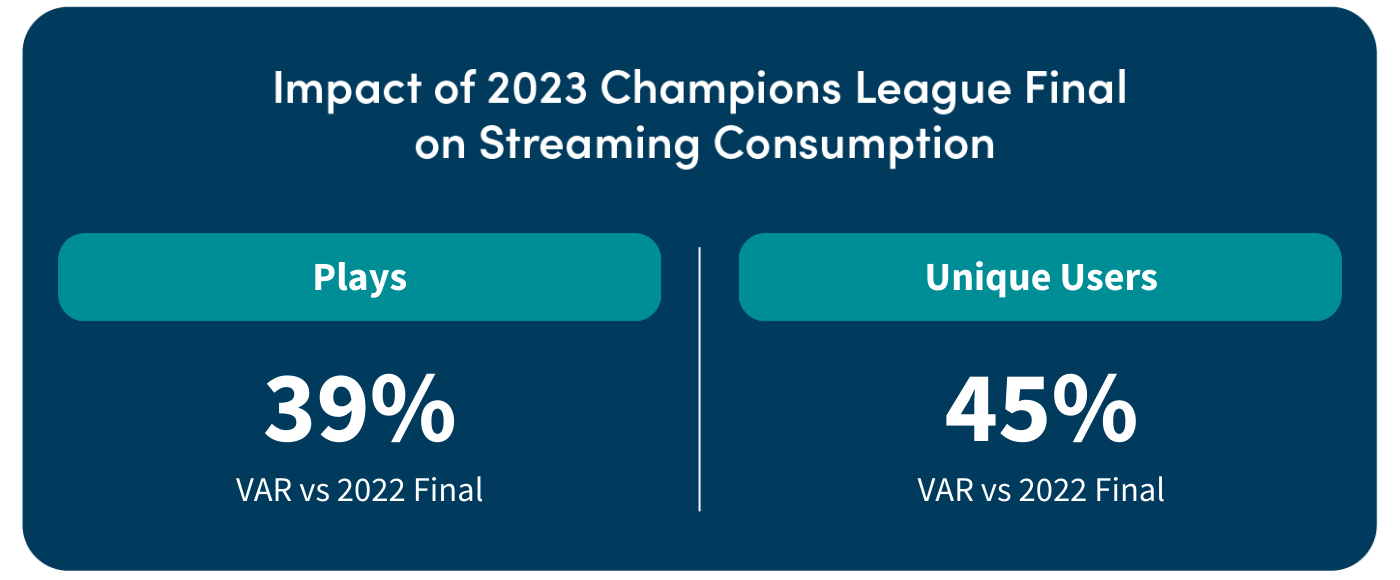 The 2023 final provided a big boost to streaming adoption compared to last year's, attracting 39% more plays and 45% more unique users. Even though the total playtime increased by 14% year over year, the average playtime per user and per service both decreased compared to 2022, suggesting viewers tuned in for shorter sessions.
Connected TVs were the devices that captured the most playtime (34%), followed by smartphones (26%), set-top-boxes (18%), and PCs (15%).  
Roland Garros 2023
The Roland Garros, also known as the French Open, is the foremost clay court tennis championship in the world and the second of the four annual Grand Slam tournaments. Held at the Stade Roland Garros in Paris, this prestigious event consistently draws tennis enthusiasts from all corners of the globe and does increasingly so on streaming platforms.
The French Open 2023 saw Novak Djokovic secure his 23rd Grand Slam title and Iga Swiatek win her third French Open. Djokovic defeated Casper Ruud in straight sets to become the only man to win all four Grand Slams at least three times, while Swiatek overcame Karolina Muchova in the women's final to cement her status as the WTA Tour leader. 
An analysis of NPAW customer data indicates an increase in plays, playtime, and unique users compared to both the previous 90 days and 2022's edition. When compared to the previous 90 days — i.e. regular seasonal consumption —  NPAW customers experienced a 11% increase in plays and unique users during the length of the tournament, while total playtime surged by 8%.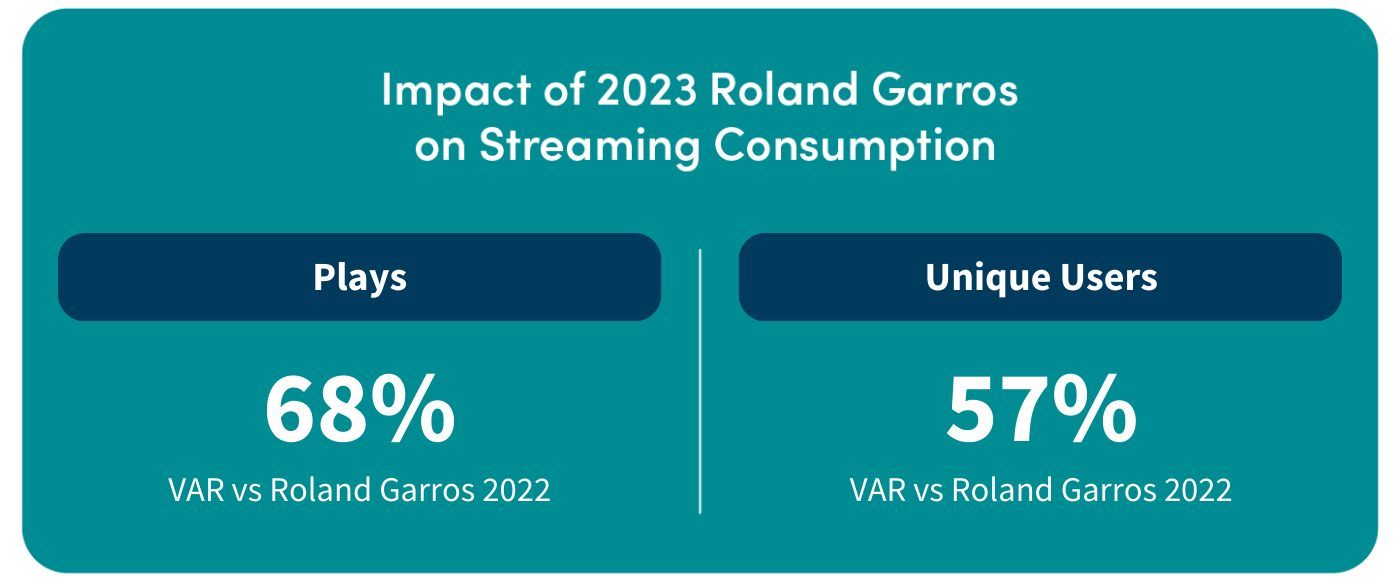 The surge in streaming consumption was much stronger when compared to last year's tournament, which points at the growing popularity of streaming platforms among tennis fans. Roland Garros 2023 garnered 68% more plays than the previous edition, attracting 57% more unique users and registering a 37% higher playtime. However, the average playtime and average playtime per user decreased by 27% and 32% respectively, indicating that users might be watching in shorter bursts or being less engaged per session. 
The men's semifinals attracted the most playtime, while TVs were the device of choice for most viewers with almost a 47% share. PCs came in second with 19% of the share, with smartphones following with 16%.