Wimbledon 2023 came to an explosive close last Sunday as 20-year-old Carlos Alcaraz defeated the long-standing champion Novak Djokovic in an epic 5-hour-long match for the ages. Only one day before, the Czech Marketa Vondrousova became the tournament's first unseeded women's champion, surprising many a tennis expert as she beat Ons Jabeur after a long streak of injuries and bad luck.
And, as has been the case in other recent major sporting events, Wimbledon 2023 also hit a record for streaming adoption — a testament to sports fans' shift to online video platforms.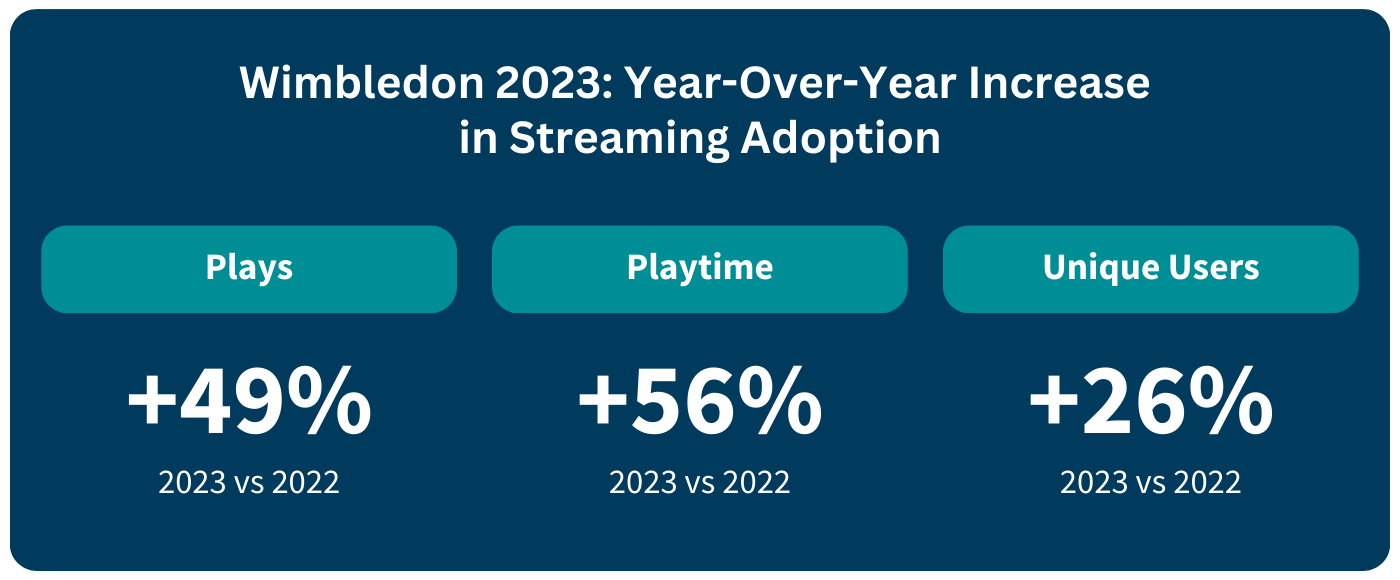 NPAW customer data shows a significant uptick in streaming usage during Wimbledon 2023 compared with last year's event. Services with streaming rights to the tournament experienced a 1.5 times surge in the number of plays and overall playtime relative to 2022. Meanwhile, the count of unique subscribers grew 26% on a year-over-year basis. 
The Men's Singles final garnered the most attention, with nearly triple the quantity of plays and unique users compared to the daily average throughout the remainder of the championship. It's also worth noting that it logged almost five times the total playtime of the rest of the tournament, which is understandable given the extended duel between Alcaraz and Djokovic.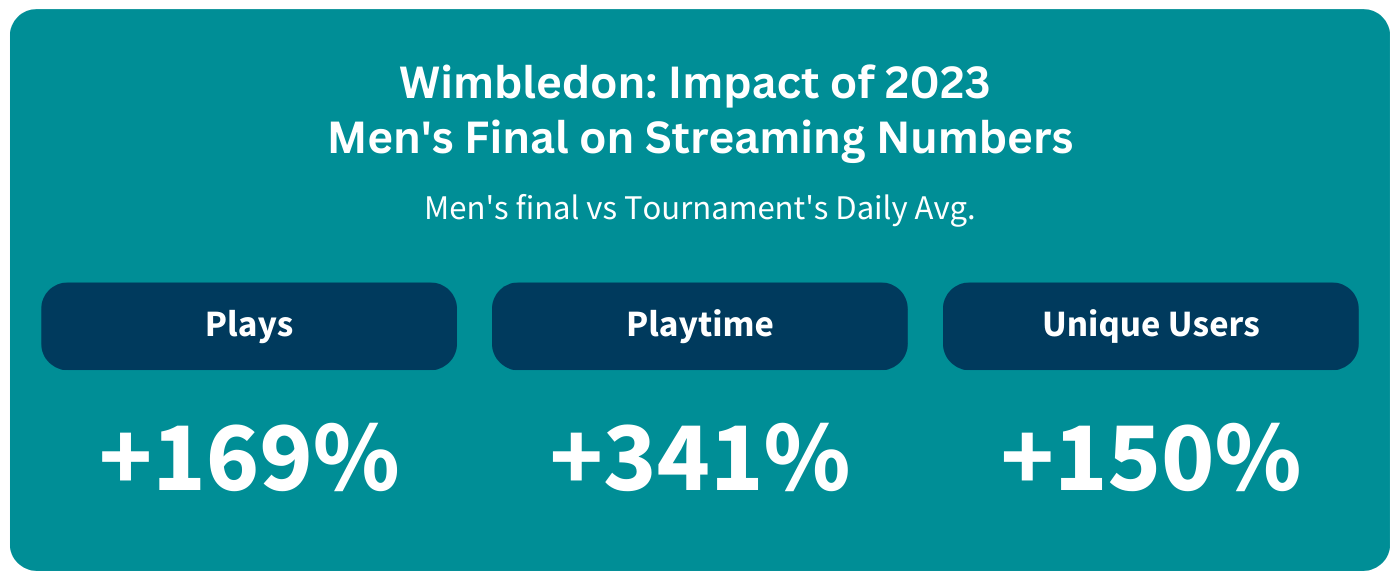 However, despite the improved streaming consumption numbers compared to 2022, Wimbledon 2023 failed to move the needle as much as other top-tier sporting competitions. Comparing the daily average on match days with the daily average over the past 90 days, there was no escalation in streaming consumption KPIs. This denotes that this tournament does not drastically influence the overall programming agenda for clients during this period, as it caters to a more specific audience.
As for the devices of choice for streaming the championship, set-top boxes (STBs) and TVs reigned supreme, accounting for 78% of total streaming playtime (50% STBs and 28% TVs). This implies that the majority of Wimbledon spectators prefer experiencing live matches on their television screens, staying faithful to the traditional viewing experience. 
Conversely, smartphones captured just 10% of the equation. This underlines that smartphones, while convenient and portable – perfect for following an event on the move or when TV access is impractical or already taken – are not the go-to device for most viewers.