As the last pedal pushes fell in the 2023 Tour de France and Vingegaard claimed his second victory, we at NPAW started digging into our customer data to uncover the hidden story about evolving viewership patterns, engagement, and streaming adoption. Here's what we learned.
In contrast with other recent sports events, our year-over-year analysis reveals only a marginal increase in streaming adoption in 2023 vs 2022. Providers with streaming rights to the Tour registered only an 8 percent increase in plays and an even smaller 2 percent hike in total playtime. Meanwhile, the number of unique users watching the Tour via streaming actually fell by 2 percent. These stats highlight a different trend from the big upswing in streaming observed in other sports disciplines, suggesting that the Tour de France is still being largely followed through traditional broadcast and cable TV.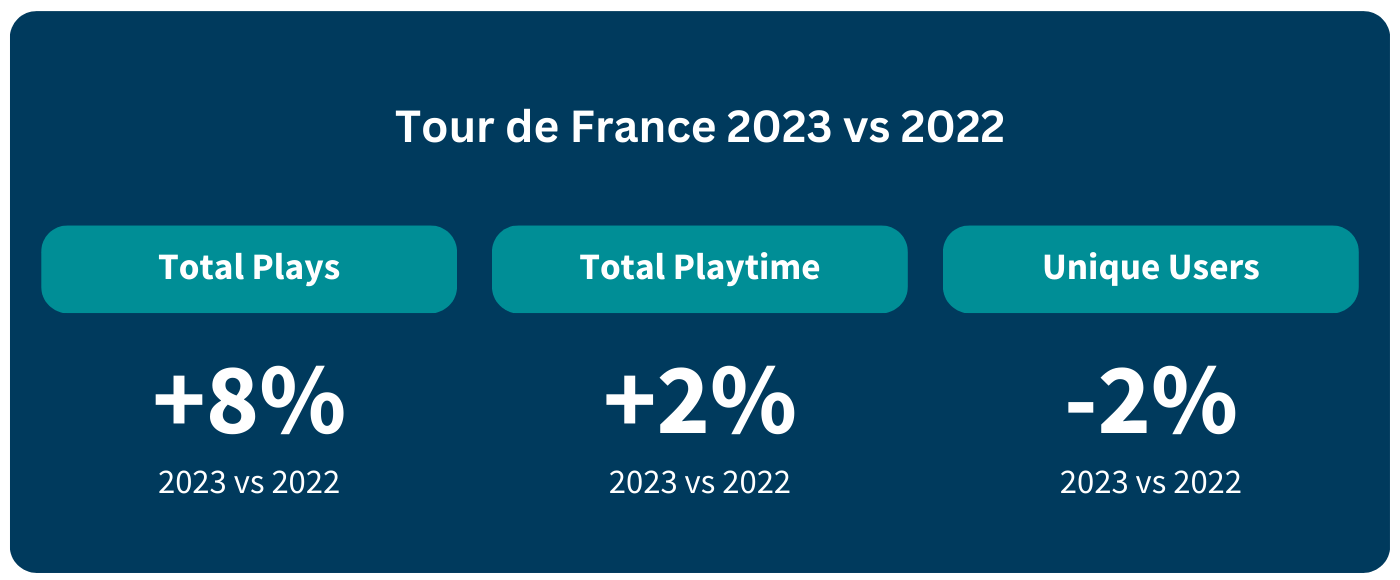 At the same time, when comparing the daily averages during the Tour de France 2023 to those of the past 90 days, there was no increase in engagement and consumption. This indicates that the event does not significantly draw viewers during this programming period – as we found to be the case with Wimbledon, the Tour caters to a very specific audience segment that fails to move the needle overall. Notably, though, there was a 20% surge in total viewing time during the Tour vs the 90 previous days, a fact attributable to the long duration of the event and its stages.

However, the final stage of the tour (stage 21) saw a different narrative unfold. As the riders raced through the most iconic avenues and landmarks of Paris, services registered almost double the number of total plays compared to the average for the rest of the tour. Total playtime was 40% higher, while streaming platforms registered a 46% hike in unique users.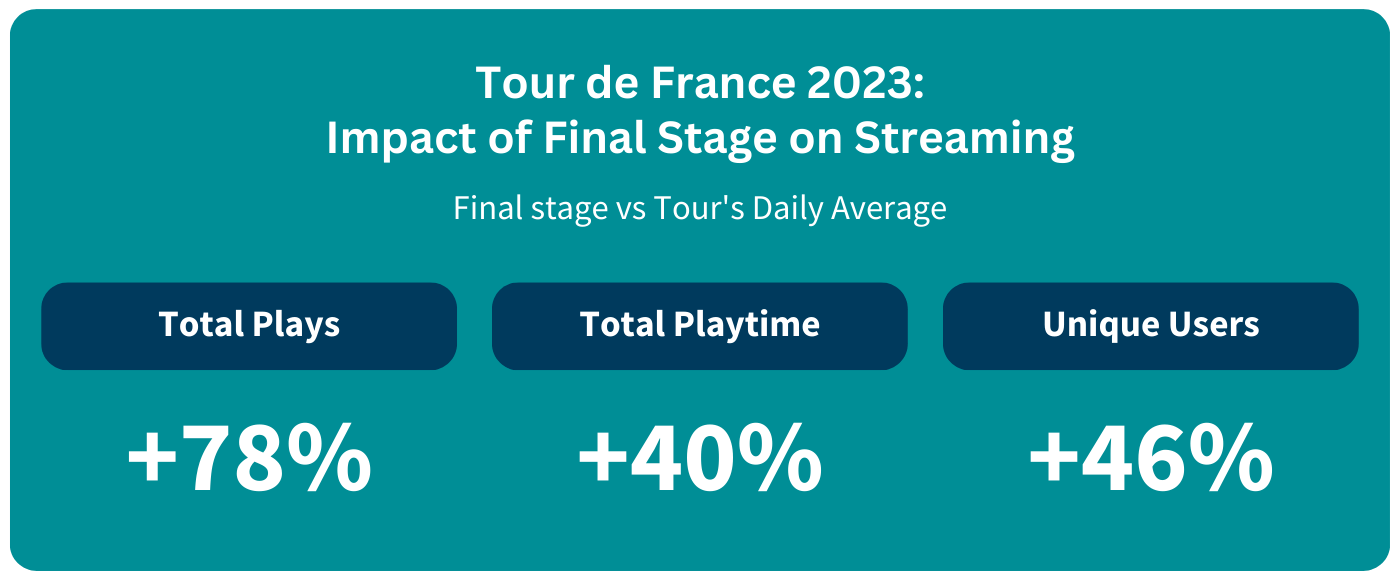 Set-Top Boxes (STBs) and Television sets emerge as the main devices of choice for streaming the Tour, jointly seizing 75% of the total playtime. On the other hand, PCs and Smartphones, symbols of convenience and flexibility, accumulated a combined 20% of the playtime.
Overall, the data echoes a global sentiment favoring big screens for consuming live sports events. Yet it also subtly points towards the convenience of smaller devices for streaming on-the-go or when other screens are not available. As we move forward, it will be interesting to see if these percentages remain stable, or if mobile devices grow in importance as they have done in other aspects of our lives.