← NEWSROOM / CDN Alliance
NPAW Joins The CDN Alliance As A Founding Member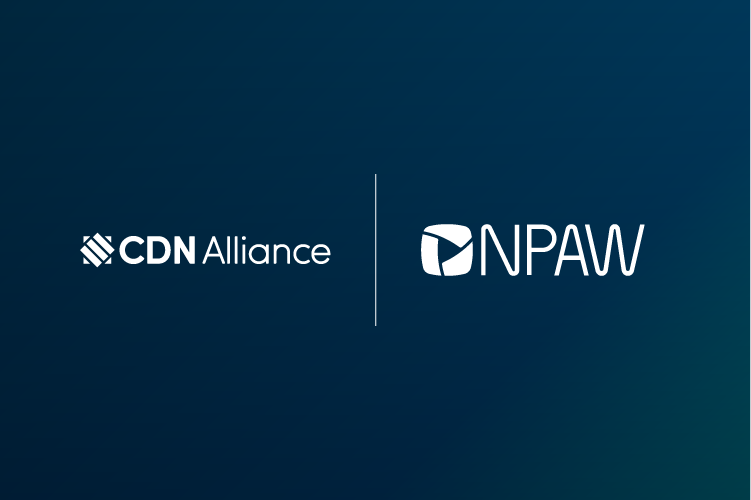 NPAW, the global leader in video business intelligence and predictive analytics for streaming services, has joined the CDN Alliance as a founding member. In that capacity, the company will help the independent, non-profit organization advance the global content delivery network (CDN) industry.
The CDN Alliance aims to promote the development of the global CDN space by addressing industry challenges in relation to bit, dynamic, and media delivery, security, and edge. It launched in September 2021 without any members to ensure its complete independence. Its first mission: to raise awareness of its mission and unite the world's CDN industry and community under one banner.
"With the support of NPAW and the rest of our newly announced founding members, we can now officially start working on our agenda of activities and establish the first working groups," said Mark de Jong, Chairman of the CDN Alliance. "We can't wait to start tackling the CDN industry's most pressing challenges and keep growing as a collective."
As a pioneer in smart multi-CDN balancing solutions for the video streaming industry, NPAW will bring to the table its expertise in optimizing the delivery of dynamic video data based on the end user's quality of experience.
"We are honored to be joining the CDN Alliance as a founding member and can't wait to start working with the organization and the other member companies to bolster CDN capabilities at a global scale," says Ferran G. Vilaró, CEO and Co-Founder of NPAW. "We look forward to sharing what we've learned through the building of our CDN Balancer and contributing to the industry's growth."
NPAW announced last month its new CDN Balancer, an AI-powered system to automatically balance loads between CDNs that relies on the company's extensive quality of experience data.
The CDN Alliance is a global independent, non-profit organization that has the goal to further enhance the CDN Industry. It is a membership-based organization, for both organizations and individuals, and is intended for anyone related to the CDN Industry and CDN Community. The CDN Alliance initiates and facilitates a range of activities to connect and support its members and to represent the CDN Industry to the world. For more information, please visit its website.
NPAW is a video intelligence company helping online streaming services grow. A global leader in its space, NPAW has over a decade of experience developing groundbreaking, scalable analytics solutions to optimize performance and user engagement, helping customers to build media experiences that maximize revenue. Its Suite of analytics apps provides advanced visibility of platform performance, audience behavior, advertising and content efficiency and app navigation in real-time to support data-driven decisions. NPAW serves more than 190 video services and processes with over 100 billion plays per year worldwide. Established in 2008 by co-founders of the video streaming service Wuaki TV, which was later sold to Rakuten, NPAW has offices in Barcelona and New York with teams around the world.
Visit NPAW's website.
Improve your Quality of Experience with NPAW
Contact us to receive a free product demo. Discover the impact Quality of Experience has on your product.