← NEWSROOM / Introducing new users product
NPAW launches its version 6 of its product "Users"
February 26th, 2021, Barcelona, Spain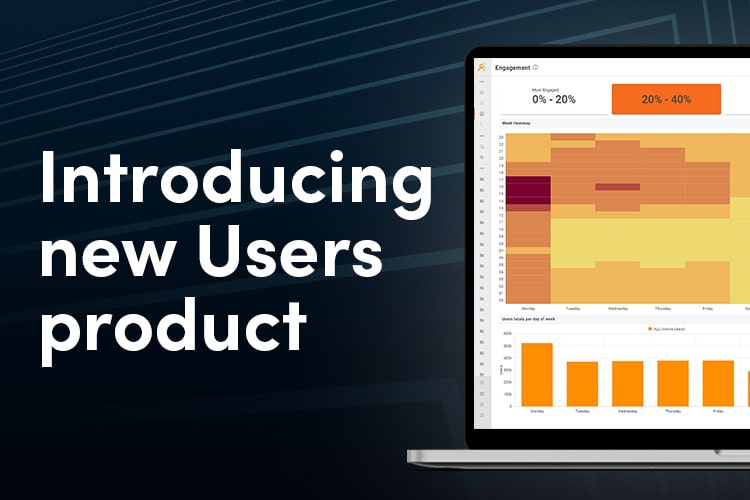 NPAW the global leader in video intelligence, has announced the release of its "Users" product in version 6.12.0. The solution has been built to meet today's video service business demands, especially OTT platforms and telco operators in need of delivering flawless, cutting-edge video experiences to keep users happy and accelerate growth.
In the rapidly evolving video streaming industry, businesses providing content to users are faced with a big challenge: the rapidly increasing competition. Consumers have limited free time and have to shuffle between various platforms to find what they like. Therefore, streaming platforms need to understand: What events have impacted retention or churn? With which users should they be engaging with; when and how?
"Users" gives video providers an overview of their end-users' streaming experience in real-time, translating it into easy-to-read dashboards focused on retention, engagement, growth and churn, with new opportunities to pull in demographic and subscription data, to segment churn-risk groups, and even tie in playback information for a full comprehensive picture. For instance, large groups of users tend to unsubscribe from streaming services after watching a key event or season. By having access to their customers' subscriber data, and what they watched, marketing and business teams can launch specific campaigns to re-engage those users, suggesting a similar series, for example, or letting them know the next season is about to drop.
The updated "Users" product release further strengthens NPAW's position in the market as a leading holistic business intelligence tool that delivers a return on investment for various company groups. As our VP of Product Solutions, Marc Maycas has stated:
"It is widely known that acquiring a new user is more expensive than retaining an existing one; this is why our mission with "Users" has been to further enhance the product with more granular information to help our clients gain better insights on every user profile and take actions that will maintain and drive incremental revenue."
NPAW — Nice People At Work — is a video intelligence company helping online streaming services grow. A global leader in its space, NPAW has a decade of experience developing groundbreaking and scalable analytics solutions to optimize performance and user engagement to build media experiences that maximize revenue. The company's analytics solutions, provides advanced visibility of platform performance, audience behavior, advertising and content efficiency in real-time to support informed, data-driven decisions. NPAW serves more than 190 video services and processes 100 billion plays per year worldwide.
Established in 2008 by co-founders of video streaming service Rakuten TV, NPAW has offices in Barcelona and New York with teams throughout the world.
Improve your Quality of Experience with NPAW
Contact us to receive a free product demo. Discover the impact Quality of Experience has on your product.