← NEWSROOM / 2023 State of Video Product Analytics Survey
Survey: 92% of Streaming Providers Not Fully Satisfied with Product Analytics Tools, Manily Due to Lack of Video and Device Tracking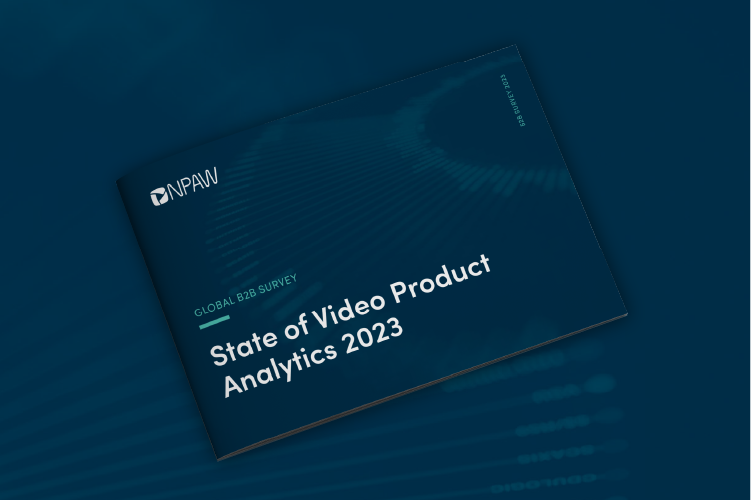 NPAW, the global leader in video business intelligence and predictive analytics, today released the findings of its State of Video Product Analytics 2023 global B2B survey. The survey reveals that, while the use of product analytics is widespread in the video streaming industry, 92% of respondents (employees at streaming providers at the director level and above) are not fully satisfied with the third-party tools they use to measure product success.
The main reasons for this dissatisfaction stem from the tools' inability to track across all the devices in the providers' offering (a concern for 32% of respondents) and a lack of video content monitoring capabilities (40%).
Product analytics software solutions have evolved to help product owners, business and operations, and content and marketing departments measure and improve the performance of digital products. However, the video streaming industry presents a unique set of measurement needs and challenges that a broad-purpose tool might not cover. 
NPAW's latest survey aims to understand the streaming industry's approach to product analytics, from methods of measurement and key areas tracked to the shortcomings of existing tools and organizations.
The survey's key findings include:
50% of respondents prefer third-party product analytics tools

for tracking video product performance and user behavior, while 26% leverage in-house tools or experts, and 24% use a combination of both
Only 8% of respondents are highly satisfied with the third-party product analytics tool

they use to track video product performance, with the rest expressing some level of dissatisfaction
The dissatisfaction with third-party product analytics tools is mainly due to their

inability to track end-user insights across all offered devices

(48%), and

a lack of video content monitoring capabilities

(40%)
The

top metrics for video product performance

are user engagement (32%), user experience (31%), and customer acquisition (28%), followed by feature usage (27%). Tracking priorities vary across departments
Three-fourths of respondents use analytics tools to track users at risk of churn

based on user behavior. Of these, 50% employ a third-party analytics tool, while 25% have developed one in-house
The

biggest blockers to using video product data effectively

are managing data security and protection (48%) and processing vast amounts of data into actionable insights (44%). Perceived challenges vary across regions
"In today's fiercely competitive streaming market, the success of video products largely depends on a business's ability to make decisions rooted in fact and driven by audience interests and behavior," said Jordi Bartomeu, NPAW's Chief Strategy Officer and Head of Product Analytics. "To do so, they need an analytics tool that can capture all the complexities of online video and track users across the entire customer lifecycle, helping them design user journeys that deliver increased engagement and stable growth."
Download the full survey report to learn more.
To produce the State of Video Product Analytics 2023, NPAW commissioned a survey of 250 business owners from North America, LATAM, Europe, ME, and APAC. All respondents were Director-level and higher. We screened specifically for those who work in companies involved in online video streaming, such as public and commercial broadcasters, Telcos, sports and e-Sports companies, media companies, movie studios, production houses, content owners and providers, and OTT streaming services. This report was administered online by Global Surveyz Research, a global research firm. The respondents were recruited through a global B2B research panel and invited via email to complete the survey, with all responses collected during September 2023. The answers to the majority of the non-numerical questions were randomized in order to prevent order bias in the answers.
NPAW is an acknowledged global leader in technology innovations that track and analyze video consumption, user behavior, quality of experience, and quality of service, helping online streaming services grow. NPAW has over a decade of experience developing groundbreaking, scalable analytics solutions to optimize performance and user engagement, helping customers to build media experiences that maximize revenue. Its suite of analytics apps provides advanced visibility and actionable insights on platform performance, audience behavior, advertising and content efficiency, as well as app navigation in real-time to support data-driven decisions. NPAW serves more than 190 video services and processes over 100 billion plays per year worldwide. Established in 2008 by co-founders of the video streaming service Wuaki TV, which was later sold to Rakuten, NPAW has offices in Barcelona and New York with teams around the world.
Improve your Quality of Experience with NPAW
Contact us to receive a free product demo. Discover the impact Quality of Experience has on your product.