← NEWSROOM / H1 2023 Video Streaming Industry Report
NPAW Report: Streaming Engagement Makes a Comeback in H1 2023 While Sports Adoption Grows
Barcelona, August 10, 2023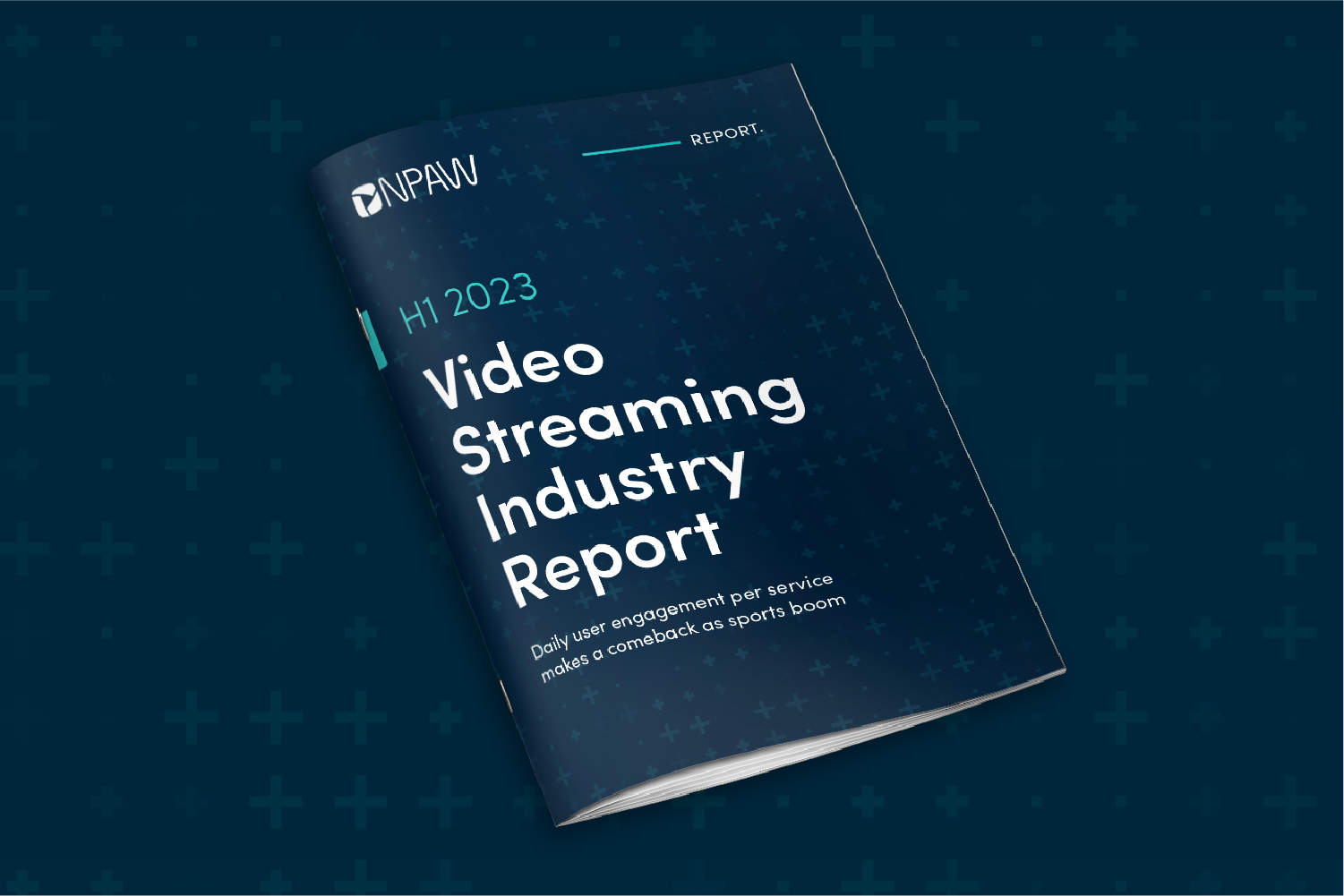 Streaming services experienced a surge in daily engagement per user in the first half of 2023, reversing the downward trend that started in 2021 as competition between services began taking a toll on the amount of time that consumers can spend on each streaming platform. That is the main conclusion of NPAW's H1 2023 Video Streaming Industry Report, which also highlights how streaming adoption grew substantially year-over-year for major sporting events in the first semester of the year.
The uptick in user engagement per service, measured in daily playtime per user and service, might signal some degree of market consolidation, with consumers focusing on a select few online video platforms. Another explanation could simply be an overall increase in streaming consumption.
Meanwhile, the streaming figures for major sports competitions continue to strengthen. The year-over-year increases in total plays, playtime, and unique users for events like Wimbledon or the NBA Finals underscore the powerful engagement power of live sporting events. It also confirms the growing trend of sports fans shifting to online video platforms and away from traditional broadcast and satellite channels.
In the first half of 2023:
For the first time since 2021, the number of VoD minutes that consumers watch per day, per streaming service increased globally (+4%)

. This suggests that consumers may either be focusing on a few select services or that overall consumption is rising 
The global linear TV playtime per user and streaming service also increased by 3%, reversing the downward trend that began in 2021

and confirming a potential industry-wide shift 
VoD consumers showed an overwhelming preference for episodic content,

with episodes accounting for 69% of the total global playtime while movies only captured 25% 
The Quality of Experience for VoD improved globally despite bitrate stabilization

as providers achieved a significant reduction in buffering times 
Global linear content quality improved in all key metrics,

with a mixed picture at the regional level suggesting potential challenges in some areas

 
Big screens, particularly smart TVs, continued to expand their dominance in VoD and, more notably, in linear content.

On the other hand, small-screen devices lost share, particularly smartphones, consolidating their position as secondary streaming devices
Sports streaming continued to grow

as the major sporting competitions of the first half of the year saw substantial increases in streaming adoption and engagement compared to the previous year 
"The first half of 2023 marked a potential turning point for the global video streaming industry as daily user engagement per streaming service began to increase for the first time since 2021," said Ferran G. Vilaró, CEO and Co-Founder of NPAW. "Access to deep, actionable data insights is crucial for navigating these changes and determining whether engagement will continue to increase." 
For a deeper look into these and other trends download the full report here.
NPAW's H1 2023 Video Streaming Industry Report examines the state of the video streaming industry on a global and regional scale, comparing H1 2023 data with numbers from H1 2022 and H2 2022. The H1 2023 insights used in this analysis were extracted from the NPAW Suite from January to June 2023. They represent real-time data from over 190 global NPAW clients, including leading OTT providers, broadcasters, and telecom operators. As our data library and client base evolve, 2022 data here presented may differ slightly from previous reports. The findings are divided by geographical scope, content type, and device. Additionally, the report provides a deep dive into the rise of sports streaming, analyzing the year-over-year change in streaming adoption for major sporting events in the first half of the year.
NPAW is an acknowledged global leader in technology innovations that track and analyze video consumption, user behavior, quality of experience, and quality of service, helping online streaming services grow. NPAW has over a decade of experience developing groundbreaking, scalable analytics solutions to optimize performance and user engagement, helping customers to build media experiences that maximize revenue. Its suite of analytics apps provides advanced visibility and actionable insights on platform performance, audience behavior, advertising and content efficiency, as well as app navigation in real-time to support data-driven decisions. NPAW serves more than 190 video services and processes over 100 billion plays per year worldwide. Established in 2008 by co-founders of the video streaming service Wuaki TV, which was later sold to Rakuten, NPAW has offices in Barcelona and New York with teams around the world.
Improve your Quality of Experience with NPAW
Contact us to receive a free product demo. Discover the impact Quality of Experience has on your product.