"Netflix and chill" has become a staple of dating lingo. So much that even Ben & Jerry's named an ice cream flavor after it to capitalize on this wink to enjoying a show or movie in a romantic setting. Enter Valentine's Day. 
Today, as millions of established and soon-to-be couples across North America look for options to celebrate their love, staying safe in the comfort of their homes emerges as a more than desirable option in pandemic times — or at least it did last year.
According to NPAW data, video-on-demand (VOD) content consumption in North America went up considerably on Valentine's Day last year compared to 2020. The increase seems to have been driven by Covid-related changes in viewer behavior, with Valentine's Day 2020 taking place right before Covid-19 lockdowns were imposed across the region. 
VOD: Valentine's Day vs. avg. for February
Valentine's Day 2020 was not much of a success in North America in terms of VOD consumption. When comparing the average for Valentine's Day with the daily average for the month of February, 2020 saw a 7% decrease in average playtime per user and a 2% decrease in the average number of users per service. 
Conversely, in 2020, VOD content providers in North America saw a 32% increase in the average playtime per user on Valentine's Day when compared with the daily average for February — overall, average playtime per user went up 39% on Valentine's Day 2021 compared to 2020.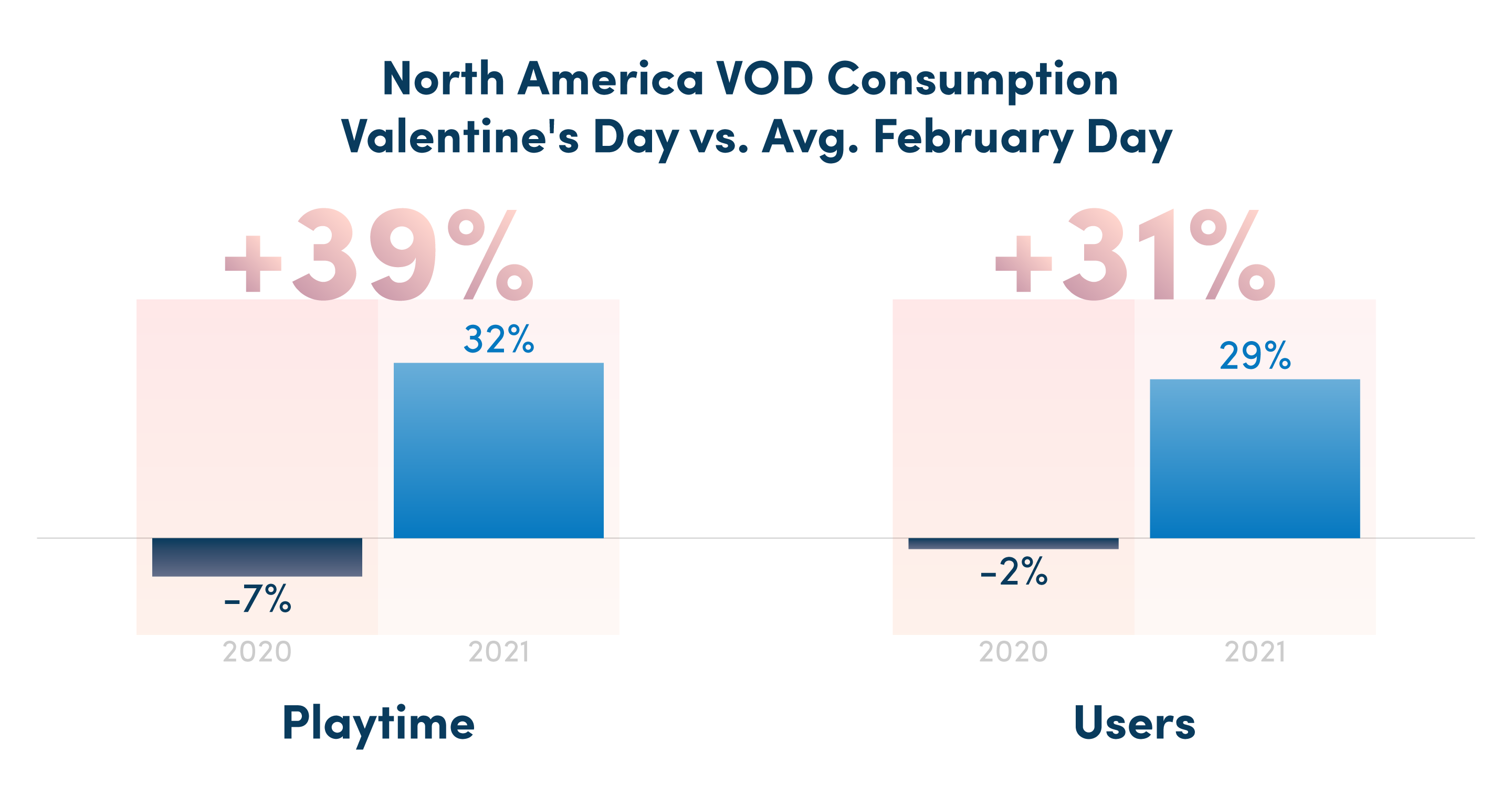 The number of users on Valentine's Day experienced a similar increase in 2021 versus 2020 when compared with the average daily number of users for February. In comparison, Valentine's Day 2021 registered an average of 29% more users per service — a 31% increase year over year compared to 2020. 
All in all, our data suggest that more and more North American consumers are veering towards indoor entertainment options like VOD when it comes to celebrating Valentine's Day in a Covid-dominated world. However, Valentine's day took place on a Sunday in 2021, whereas it fell on a Friday in 2020. And, when it comes to video analytics, details matter.
VOD: Valentine's Day vs. same day of week
Sunday is traditionally one of the strongest days of the week when it comes to TV and VOD consumption, whereas Friday is not so much. That could also explain why VOD consumption went up in 2021 versus 2020.
With that in mind, we compared Valentine's Day consumption with the average consumption for that same day of the week in that month and year – e.g. Valentine's 2021 (Sunday) versus the average Sunday of February 2021. The year-over-year increase it still there, albeit more moderate.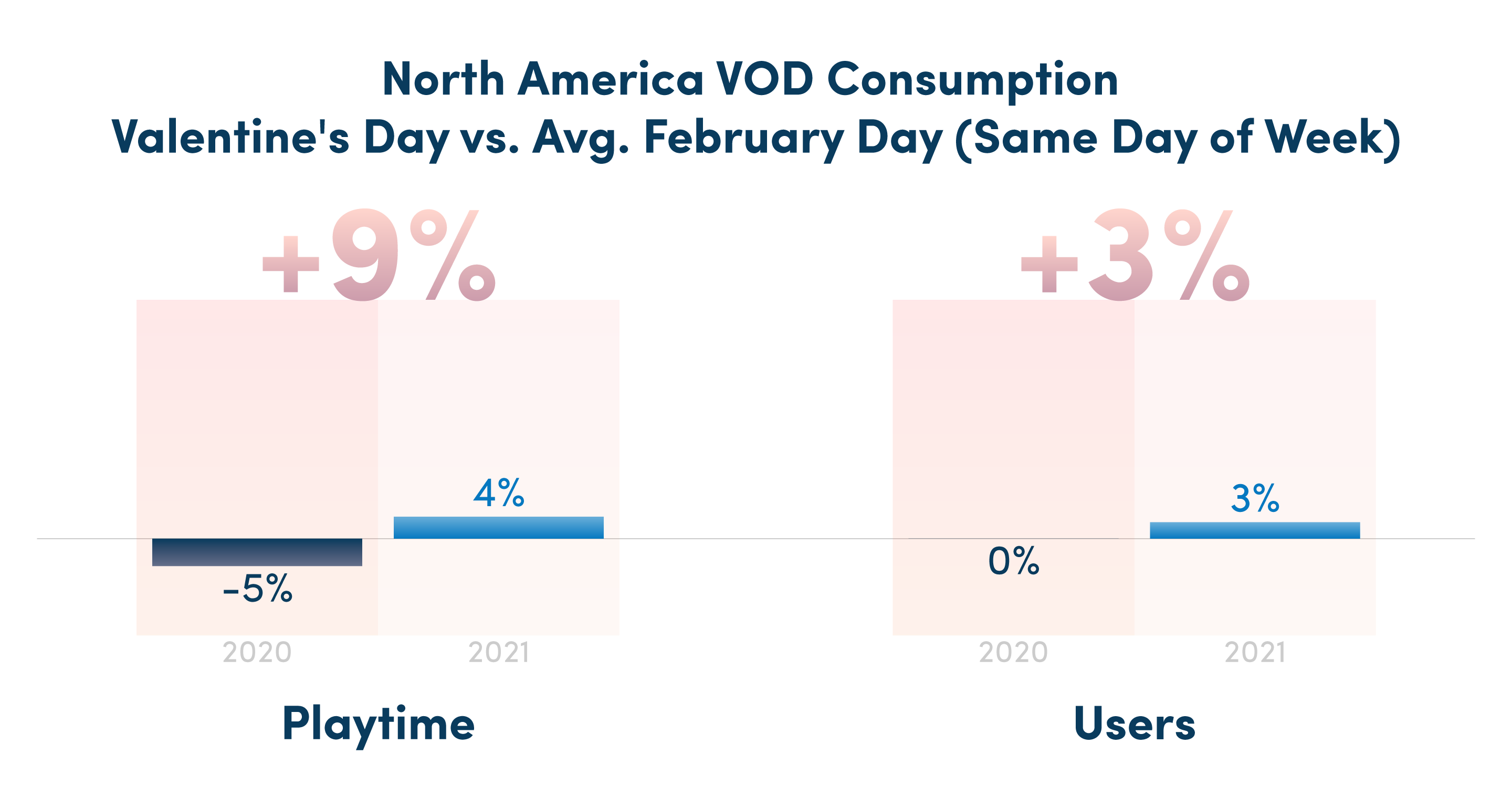 While the Valentine's Day effect did not seem to have a positive impact on VOD consumption in 2020 versus that same day of the week — 5% decrease in playtime and no change at all in the average number of users compared to the average for a February Friday —2021 tells a different story.
The average effective playtime on Valentine's Day 2021 was 4 percentage points above the average for a Sunday of February. That implies a 9% growth in relative effective playtime in Valentine's Day 2021 versus 2020. On the other hand, users grew a total of 3% in Valentine's 2021 compared with 2020.
And what about this year?
This year, Valentine's Day falls on a Monday right after the Super Bowl. The bad timing and overall viewer exhaustion could potentially impact VOD consumption for the worse this year.
However, in a context of milder Covid variants and loosening restrictions, the real question is whether or not consumer behavior will go back to the old normal and VOD consumption will fall because of it. Only time – we'll know in the next few hours – and data will tell.