← NEWSROOM / 2023 State of Streaming Advertising & Analytics Survey
NPAW Survey: 76% of SVoD Services To Introduce Ads in the Next Two Years
Barcelona, March 29, 2023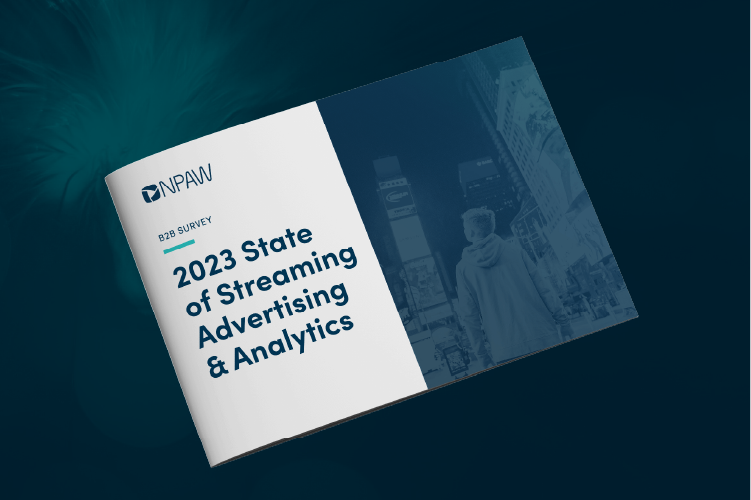 As the global video streaming market continues to grow and become increasingly crowded, streaming businesses are looking for ways to maintain their growth and competitive edge. According to a new global B2B industry survey by NPAW, the leading provider of video analytics and business intelligence for the online video industry, 76% of subscription-based video on-demand (SVoD) companies plan to introduce ads by 2025. Implementing a hybrid model (an ad-supported tier plus a premium, subscription-based one) is the preferred path for 59% of them — a move all these respondents agree is aimed at lowering the price of subscriptions.
NPAW's 2023 State of Streaming Advertising and Analytics survey interviewed 250 online video business owners from around the globe about their business models, advertising, and measurement practices and challenges.
The survey reveals how ad-based video streaming models are on the rise because of their potential to increase platform revenues and reduce subscription prices, a win-win for streaming services and consumers in a time of economic uncertainty and market saturation. It also shows that the adoption of third-party video and advertising analytics in the industry is still fairly low, yet quickly increasing as providers recognize the strategic advantage of comprehensive, real-time data.
In a nutshell, NPAW's survey reveals how:
76% of SVoD companies will be introducing ads in the next two years.

For those SVoD services that do not currently include ads in their monetization strategy, advertising revenues are firmly on the roadmap. 76% plan to change their business model to include ads by 2025, becoming either a purely ad-based business or a hybrid one.
Adoption of third-party video analytics is well underway, especially in the telecom industry.

About half of streaming companies (47%) are already using a third-party video analytics tool to track platform performance and user behavior, while 39% plan to do so. The adoption of these tools is higher in the Telecom industry (54%) than in Media & Entertainment (40%), suggesting telcos started pursuing a data-driven approach earlier on.
39% of ad-based services don't fully trust their ad server data, yet only 25% use third-party ad analytics.

Ad server data is a first step towards understanding ad performance, but it only paints a partial picture. In fact, 39% of ad-based services don't fully trust their ad server data. However, only 25% are using a third-party advertising analytics tool in addition to or instead of their ad server.
100% of ad-based services plan to implement a third-party advertising analytics tool this year.

Despite the still fairly low adoption levels of third-party ad analytics tools, all ad-based streaming companies currently not using one are planning to do so this year. 34% say they will implement one within months, while 44% will deploy one by the end of 2023.
"It's encouraging to see that more and more companies are taking a data-driven approach to running their video business, especially as the industry's shift to ads brings a unique set of measurement challenges," said Till Sudworth, Chief Marketing Officer of NPAW. "To truly make the most of their advertising-based streaming business, video providers will need an advanced, third-party ad analytics tool — one that can help them track ad performance from an end-user perspective and correlate that information with insights about user behavior and content preferences."
Download the full survey report to learn more about the state of streaming advertising and analytics.
NPAW commissioned a survey of 250 business owners from North America, LATAM, Europe, ME, and APAC. All respondents were Director-level and higher working in companies involved in online video streaming, such as public and commercial broadcasters, Telcos, sports and eSports companies, media companies, movie studios, production houses, content owners and providers, and OTT streaming services. This survey was administered online by Global Surveyz Research, a global research firm. All responses collected during November 2022. The answers to the majority of the non-numerical questions were randomized in order to prevent order bias in the answers. Download the full survey here.
NPAW is an acknowledged global leader in technology innovations that track and analyze video consumption, user behavior, quality of experience, and quality of service, helping online streaming services grow. NPAW has over a decade of experience developing groundbreaking, scalable analytics solutions to optimize performance and user engagement, helping customers to build media experiences that maximize revenue. Its suite of analytics apps provides advanced visibility and actionable insights on platform performance, audience behavior, advertising and content efficiency, as well as app navigation in real-time to support data-driven decisions. NPAW serves more than 190 video services and processes over 100 billion plays per year worldwide. Established in 2008 by co-founders of the video streaming service Wuaki TV, which was later sold to Rakuten, NPAW has offices in Barcelona and New York with teams around the world.
Improve your Quality of Experience with NPAW
Contact us to receive a free product demo. Discover the impact Quality of Experience has on your product.