← NEWSROOM / Green streams & NPAW
Green Streams Adds NPAW's Video Analytics To Its World-Class IPTV / OTT PaaS
Barcelona, Spain / Riol, Germany | October 25, 2022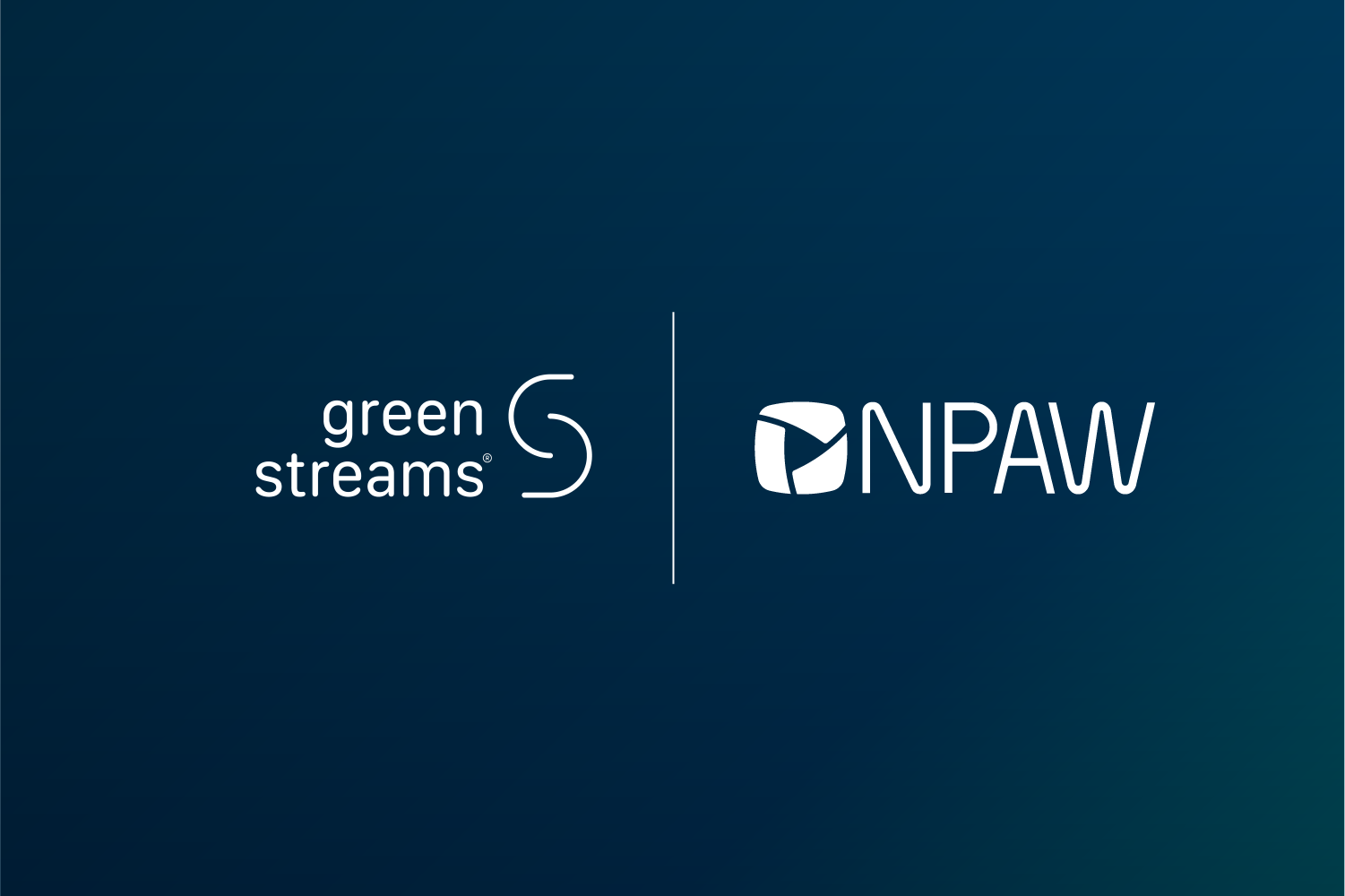 The premier IPTV & OTT platform Greens Streams and NPAW, the global leader in video streaming intelligence, are joining forces to integrate NPAW's advanced video analytics capabilities into Green Streams' world-class platform-as-a-service (PaaS) for network operators and OTT services. 
Co-founded in 2021 by industry veteran Gernot Jaeger, Green Streams' flexible IPTV & OTT backend platform seamlessly brings together key "Best-In-Breed" solutions from leading industry players in a pre-integrated end-to-end IPTV & OTT service platform. This platform provides mainly network operators with a state-of-the-art End-To-End TV and Entertainment product — from frontend applications, metadata, content recommendation, and the video backend, to the quality of service (QoS) and quality of experience (QoE) analytics that NPAW is known for. 
With this new agreement born out of IBC2022, Green Streams will add the NPAW Suite's video analytics solutions to its IPTV / OTT PaaS product to optimize its End-To-End platform and provide customers with 360-degree visibility of their customer experience. Equipped with NPAW's real-time, end-user tracking of video playback performance, viewer behavior, and content consumption, network operators and OTT providers will be able to ensure a superior streaming and user experience at all times and make more informed content curation and investment decisions.
"NPAW's multi-tenant video analytics solution allows us to easily provide our IPTV and OTT customers with access to the latest in video business intelligence so that they can monitor and optimize their streaming services' quality," said Green Streams' CEO Gernot Jaeger. "At the same time, the NPAW Suite will help us boost our own platform's capabilities, putting us in an even better position to help network operators build a quick-to-market and robust TV and Entertainment product."
With NPAW's video analytics, Green Streams customers will get a clearer picture of their audiences and how these engage with their content, leveraging insights such as what type of content their users favor or at what point of the video they drop off to design a more relevant and engaging streaming proposition. They will also be able to swiftly detect and troubleshoot playback issues like buffering or video crashes to provide a best-in-class viewing experience to their users. 
"We are excited to be joining Green Streams' platform alongside other industry-leading providers of IPTV and OTT technologies," said Till Sudworth, Chief Marketing Officer of NPAW. "In today's highly saturated and competitive streaming space, content providers need to guarantee the best possible streaming experience in order to avoid user churn and stay ahead of the competition, and our tool will help Green Streams' customers do exactly that."
Green Streams is the world's first IPTV & OTT TV platform that integrates 100% "Best-In-Class" modules into a true Platform-As-A-Service model. Founded in 2021, the mission of Green Streams is to help network operators and ambitious OTT players launch and operate truly outstanding TV and Entertainment products. With this goal in mind, Green Streams built a TV backend and middleware platform specifically for the integration with "Best-In-Breed" partners for key modules like frontend applications, metadata, personalization and recommendation, QoS & QoE analytics or targeted advertising. This approach allows Green Streams to help its customers reach highly ambitious business goals. Recently, Green Streams together with KAON and 3SS launched their joint IPTV / OTT service platform product. This launch-ready market offering is based on their pre-integrated end-to-end technology platform enabling Tier 2 and medium-sized providers to rapidly and economically deliver world-class IPTV/OTT services.
For more information, visit www.greenstreams.com.
NPAW is a video intelligence company helping online streaming services grow. A global leader in its space, NPAW has over a decade of experience developing groundbreaking, scalable analytics solutions to optimize performance and user engagement, helping customers to build media experiences that maximize revenue. Its Suite of analytics apps provides advanced visibility of platform performance, audience behavior, advertising and content efficiency and app navigation in real-time to support data-driven decisions. NPAW serves more than 190 video services and processes over 120 billion plays per year worldwide. Established in 2008 by co-founders of the video streaming service Wuaki TV, which was later sold to Rakuten, NPAW has offices in Barcelona and New York with teams around the world.
Visit NPAW's website.
Improve your Quality of Experience with NPAW
Contact us to receive a free product demo. Discover the impact Quality of Experience has on your product.