← NEWSROOM / NPAW and GlobalDots uncrushable CDN solution
NPAW and GlobalDots offer uncrushable CDN management solution
Barcelona, SPAIN, and Berlin, GERMANY, July 1, 2021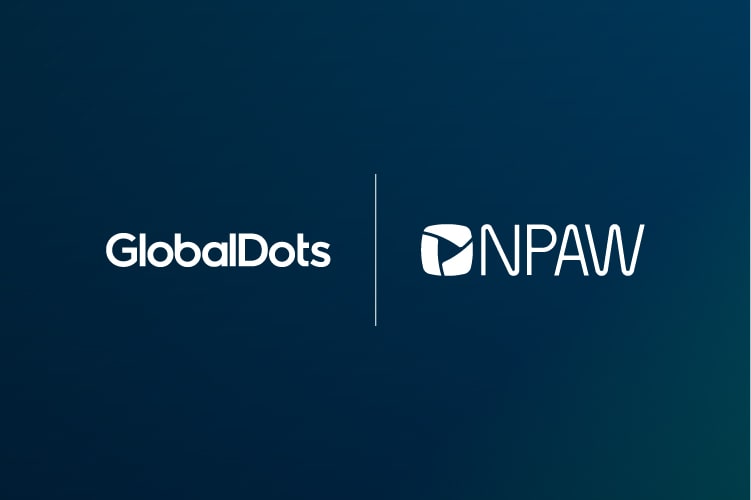 Media services will benefit from the largest, most competitive CDN management, and peerless balancing solution that neutralizes all loading challenges current technologies do not address
NPAW (Nice People At Work), the big data and video intelligence company helping video services drive performance and maximize revenue, and GlobalDots, a world leader in CDN and web performance innovation, jointly introduce the most innovative, comprehensive solution for CDN selection, management and unbreakable balancing. This complete solution bridges current technological gaps in the market and maximizes cost and labor efficiency.
NPAW presents its innovative CDN loading technology, enriched by real-time client analytics, that chunks content in parallel to neutralize CDN loading challenges current technologies do not address. This solution secures uncrushable streaming in real time for companies ready to lead the pack. The multi-CDN approach with active switching brings diversity and security, instead of the risks of dealing with a single provider. The NPAW CDN Active Switching system eliminates these technological shortfalls, ensuring 100% content availability for every user on any device, all day long. Through a customizable product, the NPAW system covers any existing CDN, where others do not, by continuously screening and integrating the CDN landscape globally. 
In turn, GlobalDots' CDN Professional Services allow customers to fully utilize their CDN's capabilities, deploy and maintain Multi-CDN strategies with a quick, effortless adoption. GlobalDots' expertise means customers can optimize resource costs, and even reduce professional service charges. Its highly experienced teams thoroughly and continuously test new solutions to help content providers improve customers' performance, scalability, and  time-to-market.
With this partnership, these two organizations are devoted to driving cost-efficient CDN selection and management, as well as uncrushable switching. The goal? Help customers deliver engaging media experiences without outage risks enhancing business scalability and directly impacting these companies' bottom line. 

"We all share a passion for innovation, and constantly seek cutting-edge tools to increase customers' independence and productivity. We look for heavily-automated, advanced tools, making sure they fully integrate with your ecosystem," stated Yuval Raclin, CEO at GlobalDots. "Partnering with NPAW was a natural step towards offering a seamless experience both for our customers and end-users." 
"Content providers will leverage GlobalDots' expertise to select and manage their CDN. NPAW will continue the journey by offering unbreakable CDN active switching and seamless experiences continuously nurtured by client-analytics in real time," said Ferran G. Vilaró, CEO and co-founder of NPAW.
The two companies recently hosted a webinar "Never Buffer: A New World Standard for Content Delivery Success". The recording will be available soon at https://npaw.com/resources/webinars/ 
GlobalDots is a 17-year world leader in web and cloud innovation, connecting businesses with the latest performance, security, and infrastructure technologies. Fusing an insatiable hunger for innovation with a diligent team of hands-on experts, GlobalDots helps customers maintain an up-to-date technology position in a quickly-changing world. The company consults, resells, implements, customizes, and supports technology solutions to streamline business processes and services, providing the foundations for sustainable business growth.
For more information, visit www.globaldots.com
NPAW—Nice People At Work—is a video intelligence company helping online streaming services grow. A global leader in its space, NPAW has over a decade of experience developing ground-breaking, scalable analytics solutions to optimize performance and user engagement, to build media experiences that maximize revenue. Its Suite of analytics apps provides advanced visibility of platform performance, audience behavior, advertising and content efficiency, and app navigation in real-time to support data-driven decisions. NPAW serves more than 190 video services and processes, with over 100 billion plays per year worldwide. Established in 2008 by co-founders of the video streaming service Rakuten TV, NPAW has offices in Barcelona and New York with teams around the world.
For more information, visit www.npaw.com
Improve your Quality of Experience with NPAW
Contact us to receive a free product demo. Discover the impact Quality of Experience has on your product.